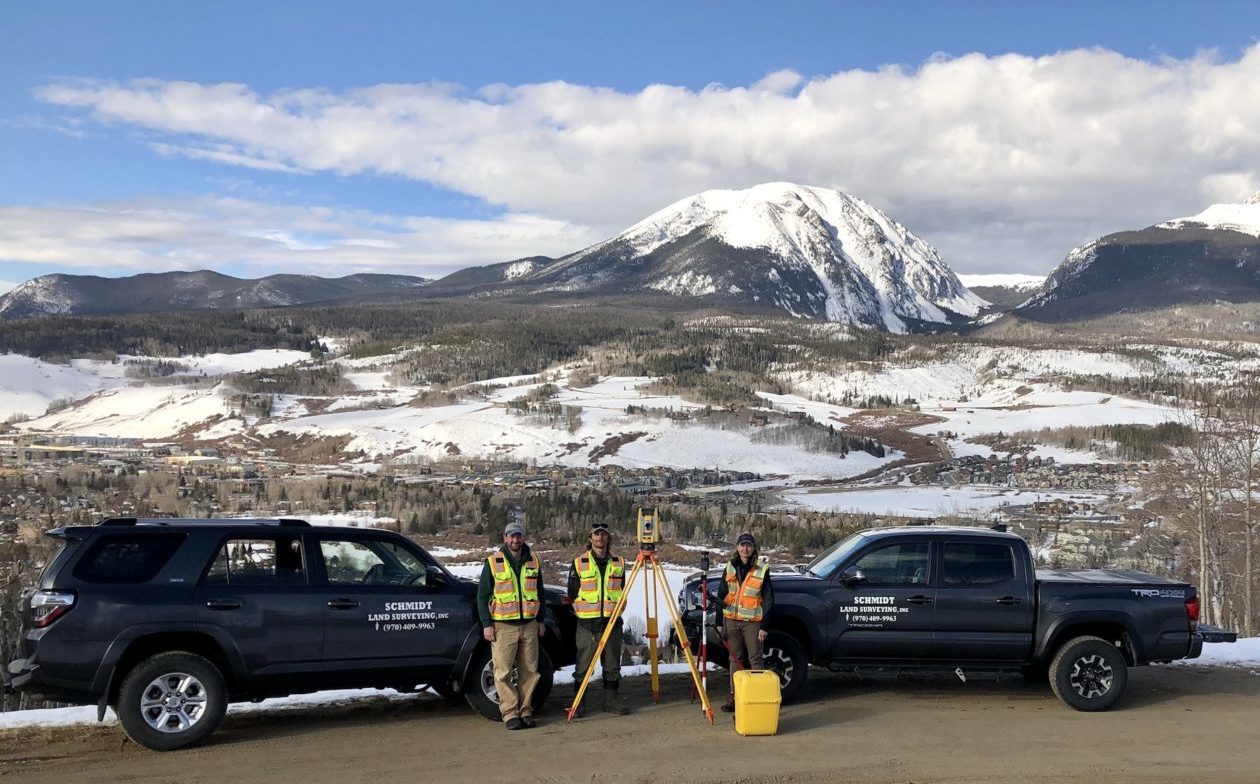 Welcome
Schmidt Land Surveying, Inc. is a Summit County based company that provides full service professional surveying services to a wide range of clients throughout Summit County. Whether providing professional consulting to individuals or performing daily field crew operations as a sub-contractor on larger construction projects, we can accommodate the demands and needs of engineering, construction, architectural and land development firms as well as the residential landowner. We pride ourselves on quality and professionalism from our staff.
Schmidt Land Surveying was founded in 2006 by Liz Schmidt who has over thirty years of surveying experience working with various surveying companies in Summit and Eagle Counties. Liz graduated in 1989 with a degree in Forest Management Science from Colorado State University. She moved to Summit County in 1990 and began her career as a surveyor. Schmidt Land Surveying is a small company catering to the individual needs of each client through goal-oriented communication, responsiveness and attention to detail.
All work is done using Trimble one-person total stations or GPS with Trimble Survey Controller handheld computer data collection. Office computation, drafting and plats are done using AutoCAD and Civil 3D software.
Member:
PLSC – Professional Land Surveyors of Colorado
NSPS – National Society of Professional Surveyors
Deputy County Surveyor – Summit County
Colorado Licensed Professional Surveyor Registration No. 37047


Testimonials
"Liz Schmidt and her team are true professionals. They are great to work with, accurate and efficient and they have always taken care of our needs in a timely fashion. We have been working with Liz for a very long time and will continue to do so long into the future."
James Letson, President Columbine Hills Construction 
"I have been utilizing Liz for our surveying needs since she started her own company and use Schmidt Land Surveying for every job I work on Summit County. She is extremely personable, responsive, and communicative – not usually attributes you see in all surveyors."
L Mark Luna, PE Principal Martin/Martin Consulting Engineers
"It is an honor and a privilege to recommend Liz Schmidt and her team as a preferred local Surveyor! Having worked with dozens of surveyors in my 30-year career as a builder/developer, I have found Schmidt Land Surveying to be one of very best! It always amazes me how responsive, detailed, and thorough they manage to be in this extremely active and competitive real estate environment. Every single transaction we've done together, I've felt as though I am their only client, and that they would do anything and everything in their power to facilitate the fluid schedules that present themselves from time to time. Thank you so very much for helping make Summit County a better work environment for all of us."
Eric M. Dahman President, Synergy Ventures, Inc.
"We have worked with Schmidt Land Surveying for eight years and have really appreciated their attention to detail and willingness to cooperate with our project team. Liz and her crew represent everything we look for in a surveyor including accuracy, experience, responsiveness, and professionalism."
Tom Begley Breckenridge Lands, LLC
"We have worked with Liz Schmidt for both real estate development projects and in real estate brokerage transactions. We appreciate the quick and professional response to any inquiry, and the thorough, quality service she provides is second to none. We highly recommend Liz and her team."
Chris and Kari Canfield